We are all of mixed race and ethnicity. This infographic showing the change of face in the United States along with the description of race and ethnicity does a great, succinct job of explaining this statistical change in the US population.
Mixed American Life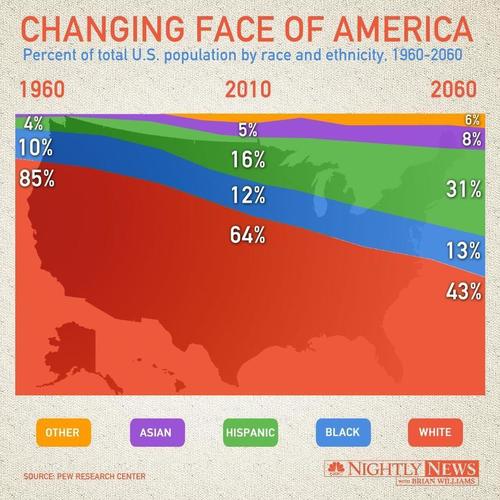 The country is slowly becoming more like a "rainbow," according to a new book by Paul Taylor and Pew Research called "The Next America".
Defining Mixed
These groups are all mixed in their heritage.
Hispanic people are mixed by definition. Hispanic is not a race and Latin American countries have not had anti-miscegenation laws like the U.S. Most Latinos are part Amerindian mixed with some part(s) Spanish / Portuguese / Black.
Black people have been mixed with others since the founding of the U.S., sometimes by choice and sometimes by force (enslavement rape). Compare the common skin tone of African-Americans to the common skin tone of Africans from Africa.
Asian people have been mixing with others since anti-miscegenation laws have been abolished in the U.S.
Other people includes Native American (1%) and Mixed people.
White people are often mixed with '5 shades of White', or they are White Latino, or…
View original post 272 more words